Unable to power on VM in vCenter server 6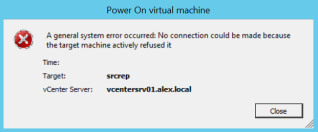 By Alex Hunt
Today while working in my home lab I faced one weird issue. I deployed a new machine from ovf template and after deployment I was not able to power on the VM. It was failing with error
A general system error occurred: No connection could be made because the target machine actively refused it
I was scratching my head that what could be wrong with the virtual machine as the deployment from ovf went smooth without any issues.
On googling for the error I came to know that vCenter workflow manager serviceshould be running else most common operations will fail. I quickly checked my vCenter services and found that service was stopped. It was set to manual and service never came back online after last reboot of my vCenter Server.
Once service was restarted there was no issues with VM power on.
---